2015-02-10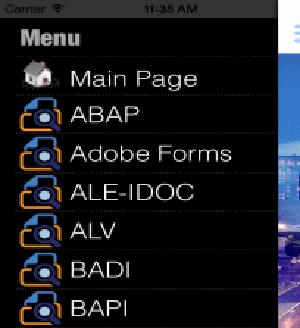 Do you know about the EGSAP_TECH app? It's a SAP knowledge bank.
Here is a description in the words of its own creators:
These days there are lots of SAP blogs, websites, YouTube videos, documents, etc. … But to stay up-to-date or learn something new, you have to enter and search a whole heap in Google to find a few good things… The EGSAP_TECH application does all the work for you. You can learn and stay up-to-date with just one touch of your smartphone.
EGSAP_TECH is an application where users can find FREE links to SAP tutorials, documents, videos, etc… all in just one place! What's more, you can stay up-to-date with SAP RSS feeds in your area of interest. You can share your links/documents/videos on Facebook or Twitter, and save your documents in Google Drive or Dropbox. You can also select your data source: web, local files or both! Our goal is to create a "community" where everyone can send their favourite links/documents/videos so that we can grow every day and have the best of the best knowledge available, all FREE OF CHARGE!
Presentation: https://drive.google.com/file/d/0B41fmzRXmifSV3pZMEplUUF4a28/view?usp=sharing
Give the app a try, and please send an email to egsap_tech@erpgeek.com.br if you have any practical suggestions.
The EGSAP_FUNC app is under construction for functional modules such as SD, MM, FI, etc. You can now send your feedback to egsap_func@erpgeek.com.br
Greetings from Abapinho.